To ensure safety on the ground and in the air, Crisis Management is a day-to-day business
There is hardly a place on earth where more people come and go every day – and where so many extraordinary things can happen at any time. Airports are a mobility infrastructure, travel agency, entertainment, gastronomy and shopping centre all under one roof. A place with complex connections and sensitive processes. No less demanding and critical are the processes of the affiliated airlines.
A drone or a flock of birds, a workforce strike, a technical malfunction, a storm, congestion at the checkpoints or even a drunken passenger is enough to disrupt flight operations with lasting effect. Not to mention massive threats such as terrorist attacks or cyber-attacks.
Airlines must manage hundreds of minor and major incidents every day. Perfect planning and fast, proactive crisis management are therefore crucial. FACT24 facilitates the work of those responsible, making processes run more smoothly and flying safer with pre-defined scenarios and contact lists along with rapid and reliable alerting of personnel and emergency services. This is all thanks to fully digital crisis handling including task management, the simple set-up of information hotlines or professional support for media and relatives … all in a single tool!
"We looked at the benchmark of various solutions because two airlines had a different provider and they were too rigid, too inflexible, we didn't have this issue with FACT24."


Martin Knuchel, Head of Emergency Response Process Management S/OE at SWISS International Air Lines Ltd.
Customers who utilise FACT24: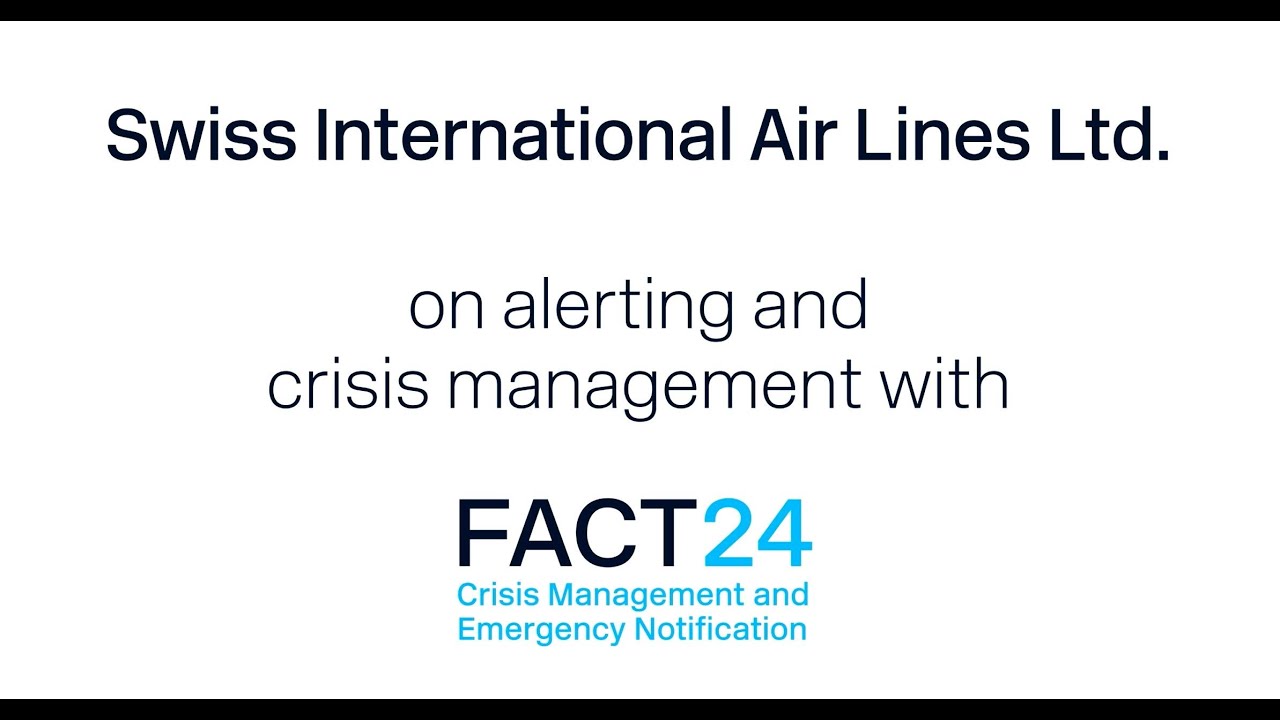 Swiss International Airlines is rolling out FACT24 to the entire Lufthansa Group. The reason: high flexibility and simple application.
FACT24 is utilised by:
Every 4th leading airline in Europe
1/3 of the leading airports in Europe
523 million passengers benefit every year
Challenges and solutions with FACT24
Challenges:
Endangerment of passengers by violent passengers, obstruction of check-in
Environmental influences such as severe weather conditions
Site evacuation due to fires, etc.
Terrorist attacks or assaults
Interference from drones and birds for air traffic

Delays at check-in, problems in the security area
Technical malfunction of the conveyor belts and luggage transport
IT infrastructure failures or cyber attacks
Adhering to high IATA security standards
With FACT24:
All events at a glance at all times: Work simultaneously on several incidents and manage them even over a lengthy period of time and totally independent of location.
Proactive digital task management based on predefined Action Cards depending on the type and severity of incident.
Alerting of crisis teams and other groups of individuals at the push of a button.
Capable of acting in real time and at any location.
Bespoke emergency notification for operational and unforeseeable events such as natural disasters
Fast, secure communication via virtual crisis rooms and ad-hoc telephone conferences
Structured overview of current tasks and communication processes as well as monitoring internal and external information, e.g. social media
Professionals communicate using templates for situation reports and communications with media and stakeholders
SaaS solution with autonomous IT infrastructure and guaranteed availability
Documentation in real time and in accordance with auditing requirements for your own evaluation or for investigations by authorities
FACT24 in Aviation – Information Sheet
Read and see at a glance how FACT24 can help you to act quickly and deal with incidents within the aviation industry.
FACT24 ENS
Alert and mobilise with FACT24 ENS: What is possible and what do clients say?
FACT24 CIM
Holistic crisis management with FACT24 CIM – see the possibilities and client experiences.
How can we help you prepare for a crisis? Request your free product demo now or contact us.