Fields of Application
Monitor Risks
Integrated clever interfaces and smart early alerting
Risk Identified: Danger or Opportunity?
When it comes to risk the first thing we usually think of is danger. However, at F24 we see risks more in terms of opportunity. We can eliminate serious crises at an early stage. After all, if you keep an eye on the various risks and continuously monitor developments, you can take proactive measures to protect lives and assets when even the slightest change occurs. This means that you can proactively manage risks through comprehensive risk monitoring, through the smart integration of external systems and proactive incident management.
Risk monitoring has a permanent place in FACT24, with a wide range of interfaces to external systems and a professional partner. FACT24 can be connected to a wide range of technical equipment, IT systems and smart sensors. These can be connected directly to FACT24 via email, SMS, web services or VDS interface, for example, and automatically activate alerts as soon as the slightest deviation is detected. This means that even minor disruptions are detected before they can cause major damage and usually before they would have been noticed by a human observer.
Employee safety when travelling
Find out more about the integration of A3M into the FACT24 crisis management process in an interview with Martin Stamm, Sales Director at A3M.
FACT24 clients also receive reliable early warnings from around the world via the integrated A3M Global Monitoring early warning service. Based on over 500 verified news sources, including news agencies, hurricane and earthquake warning centres and social media, the web-based and map-based service provides reliable information on approaching risks – from political unrest, natural disasters and storms, to health hazards such as a pandemic.
Even if you can never completely avoid risks, FACT24 gives you the opportunity to identify them early and proactively intervene. In the best case scenario, this is sufficient and a crisis does not even occur.
Incident Management: A head start through targeted early warning
Critical areas for professional risk monitoring: So that crisis managers can act before a defective water pipe floods a data centre, a small technical fault paralyses the entire production line, or a pandemic brings the company to a standstill.
Monitoring Global Developments
Use early warning on global issues via keyword monitoring in over 500 verified news sources via the A3M add-on module.
IT-
Alerting
Monitor IT infrastructures such as servers, networks or security technology and link these systems with FACT24 to ensure no time is wasted in an emergency.
Facility
Management
Connect fire detectors, water sensors, intrusion detectors, air conditioning, ventilation and other building services to FACT24.
Production and
Warehouse
Connect technical systems in production, warehouses, and the supply chain to FACT24.
Important
Support Cases
Activate alerts when critical threshold values are exceeded.
Social Media
Monitoring
Keep an eye on social networks or link your monitoring tools directly to FACT24.
FACT24 CIM: A3M Global Monitoring add-on module
FACT24 CIM starter edition enables you to integrate A3M's Global Monitoring early warning and information system directly into the Collaboration Dashboards and the alerting processes in FACT24. You can, for instance, automatically trigger alerts in FACT24 based on local incidents and pre-defined incident categories.
The following A3M Global Monitoring services can be integrated into the FACT24 Collaboration Dashboards:
Worldwide early crisis warning based on editorially validated message
Access to the latest country and city information with travel tips for business travellers (worldwide)
Individually configurable notifications via email (travel alerts)
Crisis monitoring based on actual booking and GPS data (Travel Tracking System)
The A3M Global Monitoring app informs employees worldwide about dangers at their current location or travel destination by means of push messages. Furthermore, the app can be used to provide employees with hazard ratings and behavioural information based on all events.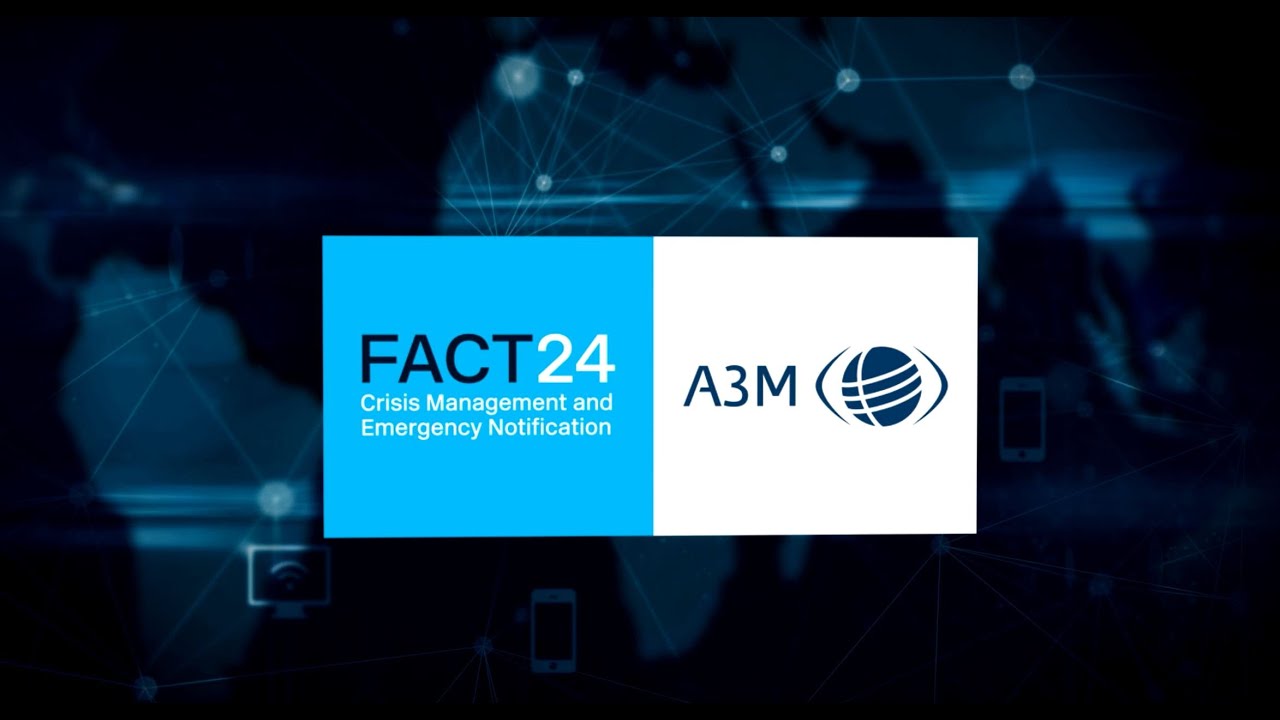 Keeping an eye on all risks worldwide with the add-on module A3M Global Monitoring
Today, almost every company works internationally. Due to the legal duty of care, you are faced with the challenge of ensuring the safety of your employees whilst they are abroad.
Read free of charge how the add-on module A3M Global Monitoring supports you in this.
Find out more about other FACT24 fields of application!
FACT24 ENS
Alert and mobilise with FACT24 ENS: What is possible and what do clients say?
FACT24 CIM
Holistic crisis management with FACT24 CIM – see the possibilities and client experiences.
How can we help you prepare for a crisis? Request your free product demo now or contact us.