Proactive Incident and Crisis Management for Industry & Trade
Contamination in chocolate bars, pollutants in children's toys, defective components in cars, accidents involving hazardous substances or gas explosions – in such disruptions, not only are human lives, assets and the environment at risk but industrial companies often have to protect sensitive and valuable equipment from damage as well. Rapid intervention in critical situations has become the be-all and end-all, which is why incident and crisis management for Industry & Trade sector is crucial.
Every industry and trade need a professional crisis management solution with automated emergency notification systems to prepare for scenarios involving situations such as site evacuation, gas or oil leaks, product recall or a looming natural disaster. With FACT24, we support industrial professionals during every phase of any kind of crisis by starting with digital crisis prevention and continuing with emergency planning and incident or crisis handling, right through to the automated documentation of everything that has happened, in accordance with auditing requirements.
"We therefore need an alarm system that is easy to use even in hectic situations and is completely reliable."

Karl Rengstorf, Head of Site Security & Emergency Management, SCHOTT AG
1/3 of the TOP 50
Industrial Companies in Europe
4 of the TOP 5
Car Manufacturers in Europe
5 of the TOP 10
Top-Selling Companies in Europe
4 of the TOP 10
International Chemical Companies
5 of the TOP 20
Largest Retail Companies in Europe
Proactive Crisis Management to Protect your Reputation
An additional risk in the event of a publicly visible crises is the loss of reputation. That's why an essential component of successful crisis management is being proactive and utilising transparent communication about events both internally and externally. FACT24 provides support with handling external inquiries such as from the media, clients or residents. FACT24 combines all the features of comprehensive crisis management on a single platform.
What Customers from the Industrial Sector think of FACT24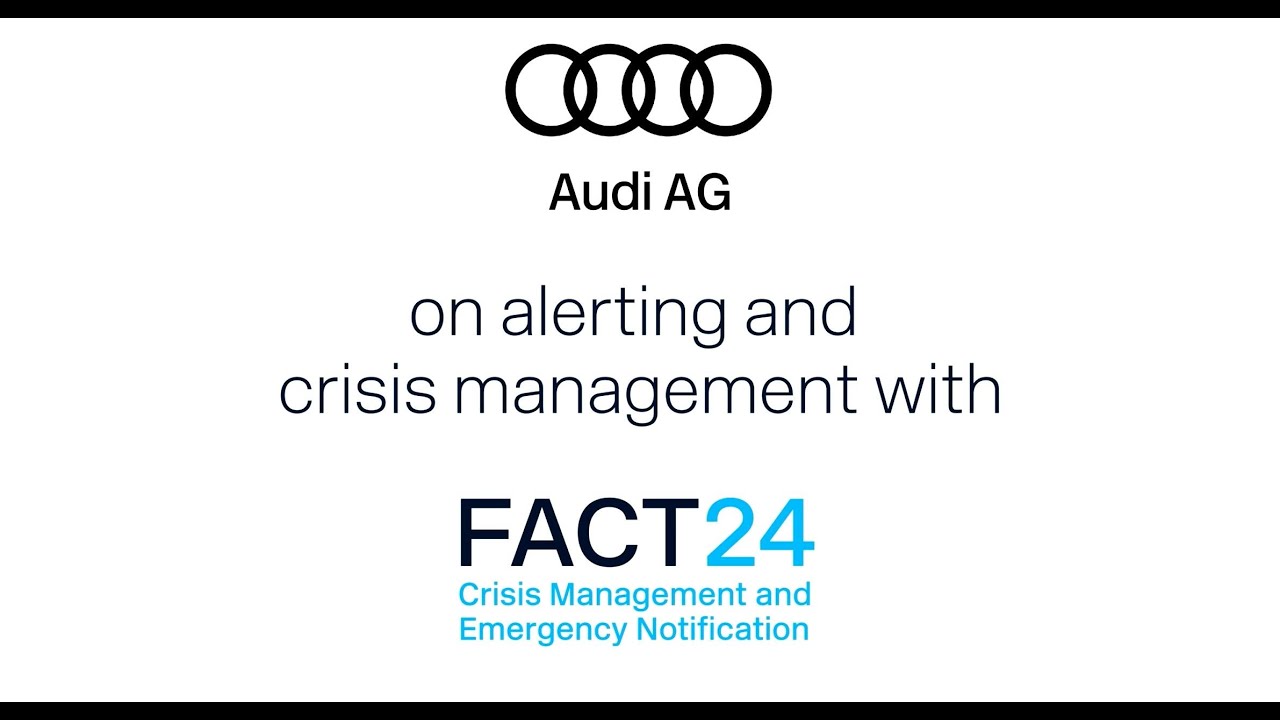 In this customer testimonial, Konrad Schlupf, IT Service Desk at Audi AG, reports on his experiences with FACT24 – the internal solution for crisis and incident management and alerting.
Key Benefits of using FACT24 for Incident and Crisis Management for Industry & Trade:
Act
Preventively
Digitise your BCM plans, monitor critical issues and hot spots and create automated alarms.
Act
Interlinked
Work on crisis prevention, risk monitoring, emergency notification, incident management and proactive crisis management within a single system.
Keep an Eye
on Everything
Work on several incidents simultaneously, long-term and independent of location.
Cooperate in a
Coordinated Manner
Use smart emergency notification services and proactive digital task management with pre-defined checklists.
Communicate
Professionally
Communicate with confidence – with templates for situation reports and communication with customers, suppliers and the public.
Document in Accordance
with Audit Requirements
All events are documented in real time – for your own evaluation or for submission to authorities.
FACT24 ENS
Alert and mobilise with FACT24 ENS: What is possible and what do clients say?
FACT24 CIM
Holistic crisis management with FACT24 CIM – see the possibilities and client experiences.
How can we help you prepare for a crisis? Request your free product demo now or contact us.